On Wednesday, November 13th, I gave a guest lecture to the Interactive Communication graduate students at Emerson College.
The talk was entitled 'Civic Engagement in the Era of Digital Storytelling'.
Picking up from the first part of the workshop, which was about collaborative consumption and crowdsourcing, I presented the case of Cookisto – a peer-to-peer community that brings together amateur cooks and urban dwellers. Cookisto originated in Athens and it proved so successful that it was recently rolled out in London.
The bulk of my talk was a bird's eye view of my research on civic engagement during the last 11 years, starting with the factors that motivate young people to engage, as well as an evaluation of the contextual and technological aspects of online civic engagement based on the practice of NGOs and youth organisations. We have moved from a paradigm of participation based on duty, loyalty and familial rituals to a consumerist model built around issues, choice, efficacy and the self.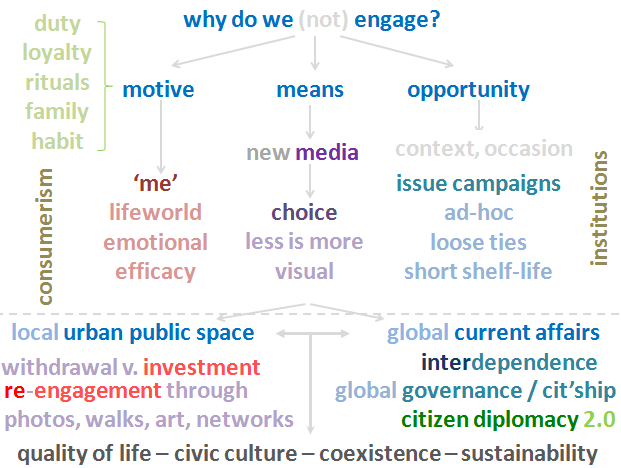 This led me to examine specific ways that we engage with local and global affairs. One of the headline findings of my Unplugged research was that young people have largely withdrawn from urban public space; the ensuing bedroom culture and privatisation of space may be due to the availability of media in the bedroom, or to the fact that young people are structurally excluded from the urban landscape. Utilizing digital tools, reflective media literacy, art and cultural/historical walking trails are all great ways of re-engaging with the community and becoming stakeholders of public space.
The other aspect of that quest is looking at how we can motivate and enable people to engage with global current affairs, especially in the context of journalism education. This involves understanding the complexity and interdependence of institutions, actors and issues in the global community, as well as addressing the deficits of global governance and the non-existence of an institutional citizenship structure at the international/global level. Examining how new media are affecting diplomacy by enabling citizens and groups to actively participate in world politics is part of that research agenda.
I then presented a few examples of brilliant interactive and multimedia journalism, which I feel give us a glimpse into what journalism in the 21st century will look like.

I finished the session by talking about two amazingly beautiful and successful examples of digital storytelling that exemplify the type of empathetic, localised, simple and visually literate engagement that promotes urban coexistence.