Expert commentary & recent media appearances:
18/11/2014: Interview on the economic and political situation in Greece, Radio Sputnik (Russia)
27/10/2014: Interview with Bridging Europe
18/10/2014: "Η σύγχρονη Αθήνα θέμα ομαδικής έκθεσης", Η Καθημερινή
19/09/2014: Συνέντευξη στην εκπομπή του Πολυδεύκη Παπαδόπουλου "Με το Πρώτο στην Ευρώπη και τον κόσμο" για το δημοψήφισμα της Σκωτίας, Πρώτο Πρόγραμμα Ραδιοφωνίας της ΝΕΡΙΤ
04/09/2014: "Bribe? Salzburg students game solutions to corruption in Moldova", Voices from Eurasia
01/08/2014: Media and Change: Empowerment and Civic Voice, Salzburg Global Seminar
07/07/2014: "¿Radicales al rescate?", Reporte Indigo (Mexico)

19/06/2014: "Why Greece is rolling out the Red Carpet to Li Keqiang's Chinese Investment", International Business Times
28/05/2014: "Juncker verzus Schulz. Alebo bude šéfom niekto iný?", Pravda (Slovakia)
16/05/2014: "Migrants' voting ban aids Greece's far-right in Euro elections", Euronews
26/04/2014: Συνέντευξη στην ραδιοφωνική εκπομπή "Αθήνα, το φελέκι σου", Αθήνα 9.84
06/02/2014: Συνέντευξη στην ραδιοφωνική εκπομπή του Τάκη Καμπύλη, Αθήνα 9.84
02/10/2013: "Επαναπατρισμός αντικειμένων στο Τατόι", Η Ναυτεμπορική
30/09/2013: Gerodimos works with Engagement Lab, Emerson College
29/09/2013: "Αντέχεις ένα 24ωρο χωρίς Διαδίκτυο;", Η Καθημερινή
28/08/2013: 66 Students, One Mission: Improve Global Media Literacy and Change the World, Salzburg Global Seminar
25/07/2013: Seventh Salzburg Academy on Media and Global Change Opens, Salzburg Global Seminar
20/04/2013: Συνέντευξη στη ραδιοφωνική εκπομπή "Αθήνα, το φελέκι σου", Αθήνα 9.84
22/03/2013: "Greece: Politics at the Crossroads", Political Insight
06-07/11/2012: Roman joined NewsLab's panel of pundits for live multimedia coverage of US presidential election
01/11/2012: "EU spending policies create dissent in U.K.", USA Today
09/10/2012: "Germany's Merkel arrives to protests in Greece", USA Today
03/10/2012: "New Study: Mobile Phones Put the 'Social' in Social Media", The Huffington Post

27/09/2012: "Spain announces severe budget cuts to qualify for EU money", USA Today
26/09/2012: "Protests against budget cuts in Spain, Greece rock world markets", USA Today
29/08/2012: "New Study: Global News Sites Poorly Covered the Olympics in Photos", The Huffington Post
08/07/2012: "Το Λονδίνο θύμα της επιτυχίας του", Η Καθημερινή
05/07/2012: "Πανεπιστημιακοί διαμαρτύρονται για τις δηλώσεις Κάμερον", Το Βήμα
05/07/2012: GPSG Open Letter to Prime Minister David Cameron on the issue of possible restrictions to the movements of Greek nationals across UK borders.
19/06/2012: Roman interviewed on BBC Radio 5 Live on Greece and the Eurozone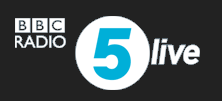 18/06/2012: Roman interviewed on BBC Radio 5 Live on the results of the Greek election
17/06/2012: "Pro-bailout party wins, but future uncertain for Greece", The Washington Times
15/06/2012: "Polarized Greece girds for crucial election", MarketWatch
14/06/2012: "Greek voters headed back to the polls", USA Today
09/05/2012: "Græsk højrefløjsparti tæller forbrydere og flugtkonge", Politiken (Denmark)
09/05/2012: "Európa na križovatke. Šetrenie, ale aj rast", Pravda (Slovakia)
08/05/2012: "Grécia enfrenta a falta de governo", Correio Braziliense (Brazil)
07/05/2012: Roman interviewed on BBC Radio 5 Live on the results of the Greek election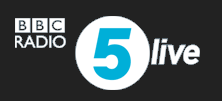 07/05/2012: "Greece: Anti-Austerity Vote Raises Risk of Eurozone Exit", MNI
07/05/2012: "Greek voters vent rage on major parties", GlobalPost
06/05/2012: "Greek voters see hope on the fringe", The Washington Times
04/05/2012: "Fringe parties tug at Greek power slate ahead of election", USA Today
03/05/2012: "Fringe parties tilting Europe left and right", The Washington Times
26/04/2012: "EuroView: Greek Anti-Austerity Vote Poses Eurozone Danger", MNI
14/04/2012: "Greece's Elections in May Will Not Solve the Country's Many Crises Nor Heal Disunity", Newsweek / The Daily Beast
28/03/2012: Interview with the Salzburg Global Seminar's Andrea López-Portillo
24/03/2012: Все больше людей становятся зависимыми от мобильных телефонов ("People are becoming increasingly dependent on mobile phones"), Inter TV, Ukraine
14/02/2012: "Greek reform package means years of pain", CNN
13/02/2012: Opinion: Extreme austerity breeds extreme politics, CNN
05/02/2012: Roman interviewed live on BBC News on the debt crisis talks in Greece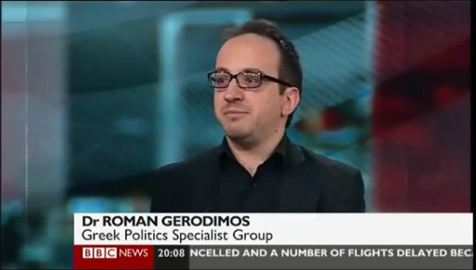 30/11/2011: "Greek Democracy at a Crossroads" – Roman's latest commentary in The Edinburgh Journal
13/11/2011: Interview on the award-winning public affairs show "You are here", Boston WERS (USA)
08/11/2011: Interview on the Mike Hosking Breakfast show, Newstalk ZB (New Zealand)
05/11/2011: "La Grèce, radiographie d'un pays exsangue", MediaPart (France)
02/11/2011: "Gréci referendom šokujú Európu", Pravda (Slovakia)
21/10/2011: "The week that will define Greece's future", Commentary for The Independent (UK)

10/08/2011: "Reacţie dură a cetăţenilor britanici faţă de vandali: 'Nimeni nu susţine violenţele!'", Adevarul (Romania)
31/07/2011: "Analyzing Murdoch's decline at the Salzburg Global Seminar", Global Post

20/01/2011: Heute Nacht, ZDF (Germany)
07/01/2011: "Digitale Askese: Einsam ohne Handy und Internet", Die Zeit (Germany)

07/01/2011: "Technology junkies: How we suffer withdrawal symptoms like drug addicts if we're kept away from our gadgets", Daily Mail (UK)

02/01/2011: "Facebook generation suffer information withdrawal syndrome", Sunday Telegraph (UK)

03/11/2010: "Merkel targeted by Greek terror groups", The Independent (UK)

26/10/2010: "Students brave 24-hour technology fast", The Independent (UK)

24/10/2010: Пятого этажа, BBC Russian Service
22/10/2010: Students try 'Unplugged' experiment, BBC 1, BBC News 24, BBC World
22/10/2010: "Unplugged: Living without the media", BBC Online: dot.Rory
22/10/2010: "Bournemouth students in media black-out experiment", BBC Online
03/09/2010: Last Word: Dimitrios Ioannidis, BBC Radio 4 (UK)

17/05/2010: Protesty v Grécku budú pokracovat. Príde revolúcia?, Pravda (Slovakia)
09/05/2010: La cultura política, la gran responsable detrás de la debacle económica griega - El Mercurio (Chile)
17/12/2008: Gobierno griego hace mea culpa, pero no logra aplacar las protestas – El Mercurio (Chile)
25/10/2007: "Varning för klimatkrisens överraskningar", Svenska Dagbladet (Sweden)
12/01/2007: "Greek leftists eyed in embassy attack", Associated Press