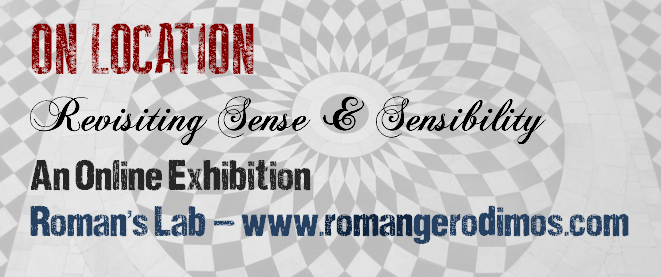 This online exhibition is a tribute to Ang Lee's 1995 film Sense & Sensibility based on Jane Austen's classic novel published in 1811. As a fan of period dramas and being fascinated by the film-making process, I have been particularly interested in the screen adaptation of Sense & Sensibility. Emma Thompson's script is intricate, witty and dense, elucidating Austen's narrative and making it accessible to a contemporary audience. It's a story about divisions (class, gender and urban v. rural) as much as one about love, loss and separation. Ang Lee's film is a sensitive but lush production featuring a complex set of locations finely embedded into the narrative fabric.
Ever since watching S&S back in March 1996 – and especially after reading Emma Thompson's "Screenplay & Diaries" – I wanted to visit as many of the filming locations as possible in order to retrace the steps of the production team and revisit the script. This online exhibition features 42 photographs – selected from hundreds taken over three periods of 'scouting' between August 2008 and October 2012 across Devon, Wiltshire, Somerset and London. A list of all locations visited along with links to their websites is included below.
When curating the images for this exhibition, I have tried to weave together three narratives – passages from Emma Thompson's screenplay for Sense and Sensibility; my original photos corresponding to those passages, along with details of the filming locations (obtained from their respective booklets and souvenir guides); as well as trivia about the filming of S&S (drawing from Thompson's published Diaries of S&S) and notes and trivia from my own journey. This involved watching the film frame-by-frame and, where possible, matching each photo to the corresponding dialogue, scene or point-of-view (POV). I have divided the photo-essay in chapters which are named after the corresponding tracks of the film's brilliant original soundtrack by Patrick Doyle.
It goes without saying that this is only a small collection of photos and passages from the film and it is not, by any means, an exhaustive list of the locations used or a meaningful account of the narrative itself. While every effort has been made to identify and capture all of main filming locations, two of them were not accessible at the time of 'scouting': Efford House on the Flete Estate in South Devon, which became Barton Cottage – the small cottage to which the Dashwood ladies move after the death of Mr Dashwood – could not be accessed, although it is available to rent as a holiday cottage; similarly, the very handsome Trafalgar Park near Salisbury in Wiltshire (which became Barton Park – the country home of the lovely albeit slightly overwhelming Sir John Middleton and his mother-in-law Mrs Jennings) is only available for filming, corporate parties and weddings.
A note on the numbering of scenes: the selected slug lines follow the published screenplay, although several scenes were omitted in the final cut and tweaks made to the text. Where there is a difference between the published script and the filmed dialogue, the latter was transcribed. All passages from the script included in this exhibition are reproduced under the terms of fair use, strictly for non-commercial purposes.
INT = Interior shot
EXT = Exterior shot
1. A Particular Sum
3 EXT. JOHN AND FANNY'S TOWN HOUSE. LONDON. DAY.
Outside the house sits a very well-to-do carriage. Behind it waits another open carriage upon which servants are laying trunks and boxes.
FANNY (V/O): Help them? What do you mean, 'help them'?
4 EXT. JOHN AND FANNY'S TOWN HOUSE. DRESSING ROOM. DAY.
JOHN: Dearest, I mean to give them three thousand pounds.
11 EXT. NORLAND PARK. DRIVE. DAY.
JOHN and FANNY's carriage approaches Norland.

FANNY (V/O): They will be much more able to give you something.
2. My Father's Favorite
19 EXT. NORLAND PARK. DRIVE. DAY.
A very capable HORSEMAN (EDWARD FERRARS) canters up the gravel drive. CLOSE on his face as he gazes up at the elegant façade.
21 INT. NORLAND PARK. STAIRCASE. DAY.
FANNY is walking with EDWARD, who looks at the pictures with interest.
FANNY: They are all exceedingly spoilt, I find. Miss Margaret spends all her time up trees and under furniture and I have barely had a civil word from Marianne.
EDWARD: My dear Fanny, they have just lost their father – their lives will never be the same again.
FANNY: That is no excuse.
28 EXT. NORLAND PARK. GARDENS. DAY.
EDWARD and ELINOR are still talking as they walk arm in arm in the late-afternoon sun.
EDWARD: All I want – all I have ever wanted – is the quiet of a private life but my mother is determined to see me distinguished.
ELINOR: As?
EDWARD: Anything – a great orator, a leading politician… I think even a barrister would serve, as long as I drove a barouche and dined in the first circles.
30 EXT. FIELDS NEAR NORLAND. DAY.
EDWARD and ELINOR are on horseback. The atmosphere is intimate, the quality of the conversation rooted now in their affections.
ELINOR: You talk of feeling idle and useless – imagine how that is compounded when one has no choice and no hope whatsoever of any occupation.
37 INT/EXT. NORLAND PARK. STABLES. DAY.
ELINOR has come to say goodbye to her HORSE. She strokes the soft face sadly. Then she senses someone and turns to find EDWARD standing nearby.
EDWARD: Miss Dashwood – Elinor. I must talk to you.
The use of her Christian name – and in such a loving tone – stops ELINOR's breath altogether.
EDWARD: There is something of great importance I need… to tell you-
3. Devonshire
58 INT. BARTON COTTAGE. PARLOUR. LATE AFTERNOON.
MRS DASHWOOD: But he loves you, dearest, of that I am certain.
ELINOR looks down. She speaks slowly, choosing her words with care.

ELINOR: I am by no means assured of his regard to me. But even were he to feel such a… preference, I think we should be foolish to assume that there would not be many obstacles to his marrying a woman of no rank who cannot afford to buy sugar…
MRS DASHWOOD: But Elinor – your heart must tell you –
ELINOR: In such a situation, Mamma, it is perhaps better to use one's head.
74 EXT. BARTON COTTAGE. GARDEN PATH. DAY.
COLONEL BRANDON: She is wholly unspoilt.
ELINOR: Rather too unspoilt, in my view. The sooner she becomes acquainted with the ways of the world, the better.
COLONEL BRANDON: I knew a lady like your sister – the same impulsive sweetness of temper – who was forced into, as you put it, a better acquaintance with the world. The result was only ruination and despair. Do not desire it, Miss Dashwood.

4. All The Delights of The Season
99 INT. MRS JENNINGS'S HOUSE. HALL. DAY.
They enter the grand hallway under the supercilious gaze of a powdered FOOTMAN (MR PIGEON). ELINOR is haggard after two days of close proximity with LUCY. MRS JENNINGS is all officious bustle and MARIANNE is feverish with anticipation. She whispers to MRS JENNINGS, who laughs heartily.
99 CONT'D
LUCY: A letter! So they are definitely engaged! Mrs Jennings says your sister will buy her wedding clothes here in town.
ELINOR: Indeed! Miss Steele, I know of no such plan.
100 INT. MRS JENNINGS'S HOUSE. DRAWING ROOM. DAY.
ELINOR: Colonel, though neither one has informed me of their understanding, I have no doubt of their mutual affection.
BRANDON stands very still.
COLONEL BRANDON: Thank you, Miss Dashwood. To your sister I wish all imaginable happiness. To Mr Willoughby, that he… may endeavour to deserve her.
101 EXT. GREENWHICH ARCADE. LONDON. DAY.
MRS JENNINGS: And who is 'dear Edward'?
CHARLOTTE: Who indeed?
FANNY smiles glacially.
FANNY: My brother, Mrs Jennings – Edward Ferrars.
MRS JENNINGS looks at ELINOR in sly triumph.
MRS JENNINGS: Indeed! Is that Ferrars with an F?
105 INT. MRS JENNINGS' HOUSE. HALL. MORNING.
MRS JENNINGS is giving PIGEON his instructions for the day. MARIANNE comes running downstairs. PIGEON regards her drily.
PIGEON: No messages, ma'am.
5. Willoughby
107 INT. GRAND BALLROOM. EVE.
The great ballroom is crammed with GUESTS all determined to enjoy themselves despite the considerable inconveniences caused by noise, heat and overcrowding. […]
WILLOUGHBY is shamed into silence. Then he sees MARIANNE. At the same moment the music pauses. MARIANNE looks up. In the brief moment of relative quiet, her great cry rings across the room.
MARIANNE: Willoughby!
110 INT. MRS JENNINGS'S HOUSE. BEDROOM. DAY.
ELINOR finds MARIANNE sitting on the edge of the bed. She does not acknowledge ELINOR but merely lifts the letter and reads out, with deadly calm…
6. Excellent Notion
111 INT. COFFEE-HOUSE. COVENT GARDEN. DAY
FANNY, JOHN and ROBERT are drinking chocolate together.
ROBERT: Apparently they were never engaged.
FANNY: Miss Grey has fifty thousand pounds. Marianne is virtually penniless.
114 INT. MRS JENNINGS'S HOUSE. DRAWING ROOM. DAY.
ELINOR is seated at a desk writing a letter. There is a sudden rap at the front door. Footsteps are heard and as she turns, the maid enters with COLONEL BRANDON. ELINOR rises to greet him. […]
COLONEL BRANDON: I would not have burdened you, Miss Dashwood, had I not from my heart believed it might, in time, lessen your sister's regrets.
124 EXT. PALMER RESIDENCE. LONDON STREET. DAY.
LUCY and MRS JENNINGS are on the doorstep. LUCY looks rather lost and pathetic, with her little bundles, hastily packed. The door opens and CHARLOTTE precedes the SERVANT, ushering them in with shrill cries of sympathy.
125 EXT. SQUARE IN FRONT OF MRS JENNINGS'S HOUSE. LONDON. DAY.
ELINOR and BRANDON walk round the quiet square.

7. Leaving London
127 EXT. MRS JENNINGS'S HOUSE. DAY.
The PALMERS' carriage stands outside the house. COLONEL BRANDON helps MARRIANE in beside ELINOR before mounting his horse to ride alongside. MRS JENNINGS waves goodbye from the steps. The carriage moves off.
130 EXT. CLEVELAND. DRIVE. AFTERNOON.
The carriage stands outside the PALMER residence, a resplendent affair with a great deal of land. BRANDON is helping MARIANNE and ELINOR out of the carriage. […]
ELINOR: I think it is going to rain.
MARIANNE: No, no, it will not rain.

ELINOR cannot help but smile at this return of the old MARIANNE.
ELINOR: You always say that and then it always does.
MARIANNE: I will keep to the garden, near the house.
8. Combe Magna
132 INT. CLEVELAND. DRAWING ROOM. DAY.
MRS BUNTING, a rather baleful NANNY, looks on as MR PALMER holds up a screaming BABY in a frilly bonnet for everyone's inspection.
[…] BRANDON flicks a glance at MR PALMER for whom holding a baby comes as naturally as breathing underwater.
140 INT. CLEVELAND. DRAWING ROOM. DAY.
ELINOR turns from the window. BABY THOMAS stops crying for two seconds.
ELINOR: I cannot see Marianne.
143 EXT. THE HILL. DAY.
MARIANNE has reached the top. Soaked to the skin, she stands with the storm raging around her, staring at the spires of Combe Magna, the place that would have been her home. Rain streaks her face and the wind whips her hair about her.
150 INT. CLEVELAND. HALL. DAY.
Everyone rushes out of the drawing room as the COLONEL enters with MARIANNE. He is exhausted and soaked. MARIANNE is dumb with cold and fatigue.
9. To Die For Love
159 EXT. CLEVELAND. DRIVE. EVE.
BRANDON mounts his horse, turns to look at the house for a moment, and then spurs it violently forward.
164 INT. CLEVELAND. ELINOR AND MARIANNE'S BEDROOM. LATER.
The room is very still. MARIANNE is pale as wax. DR HARRIS puts on his coat. ELINOR looks at him fearfully.
DR HARRIS: I must fetch more laudanum. I cannot pretend, Miss Dashwood, that your sister's condition is not very serious. You must prepare yourself. I will return very shortly.
169 INT. CLEVELAND. STAIRCASE. MORNING.
ELINOR hurls herself down the stairs. She reaches the door just as BRANDON and MRS DASHWOOD enter and practically swoons into her mother's arms.
10. Throw The Coins
191 EXT. BARTON VILLAGE CHURCH. DAY.
A large wedding party is gathered outside the church. The entire village is present – CHILDREN, FARMERS, LABOURERS, SHOPKEEPERS, and all our PRINCIPALS.  […]
CAM pulls back as the wedding procession makes its glorious way from the church. We draw away into the surrounding countryside. Then we see, on the far edge of frame, very small, a MAN sitting on a white horse, watching. It is WILLOUGHBY. As we draw back further still, he slowly pulls the horse around and moves off in the opposite direction.
On Location




Revisiting Sense & Sensibility

:

An Online Exhibition
October 2012
All photos: August 2008 – October 2012 | © Roman Gerodimos

Exhibition poster: The Great Hall at the Queen's House, London.
Fonts: Edwardian Script ITC, DCC Sharp Distress Black, New Press Eroded
Filming Locations:
Norland Park: Saltram House, Devon
Cleveland: Montacute House, Somerset
Mrs Jennings's London House: Mompesson House, Wiltshire
Combe Magna: Compton Castle, Devon
Ballroom (interior): Wilton House, Wiltshire
Ballroom (exterior): Somerset House, London
John and Fanny's Town House: Adam House, London
The Palmers' London Residence: Chandos House, London
Coffee shop: The Queen's House, Greenwich, London
Barton Village Church: Berry Pomeroy Church, Devon